Chicago Trib: U of Ill To "Review" Firing of Howell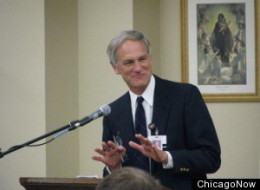 The University of Illinois is now reviewing their firing of a professor who was removed after telling his class why the Catholic church believes that homosexuality violates natural moral law.
Kenneth Howell was explaining to his "Introduction to Catholicism" class where the church stands on homosexuality, and sent out a follow-up email to students after class--which reportedly circulated around the campus and prompted some students to complain, the Chicago Tribune reports.
Chancellor Robert Easter has asked the University of Illinois' Senate Committee on Academic Freedom and Tenure to determine whether the university violated the academic freedom of adjunct associate professor Kenneth Howell by barring him from teaching "Introduction to Catholicism" and "Modern Catholic Thought."
http://www.chicagobreakingnews.com/2010/07/u-of-i-to-review-professors-removal-over-comments.html