Boston Kneels and Salutes Homosexual Flag At City Hall in Public Ceremony
Raising rainbow flag over Boston City Hall - state & local officials gather for ceremony
Attorney General says: I'll help help mold "our laws, our opinions, and our cullture" for the LGBT community.
"A disgusting and sickening display of "pro-gay power" worship along with the display o the rainbow flag as the status of a sovreign state at an American city hall. It is the most powerful example of subversion of the American government in recent memory," says Eugene Delgaudio, president of Public Advocate.
Thank you MASS RESISTANCE for reporting.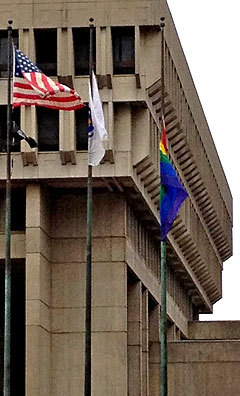 It began with a show of political power. Prominent state and local elected officials gathered in front of Boston City Hall to pledge their support for the homosexual movement, make groveling speeches, and participate in raising the rainbow flag over Boston City Hall.
For those with traditional religious values who have been trampled by the homosexual movement for years it was a pretty frightening display. The message from the politicians was that the "gay" movement can rely on them to whatever it wants. From what we've seen in recent years they're very serious.
Those in attendance included:
City of Boston: City Council President Stephen Murphy. Boston City Councilors Felix Arroyo, Mark Ciommo, John Connolly, Rob Consalvo, Sal LaMattina, Bill Linehan, Matt O'Malley, Ayanna Pressley, Mike Ross, Charles Yancey. In addition, a lot of the Mayor's top staff and various candidates for Mayor of Boston.

Other State and local officials: Attorney General Martha Coakley, Congressman Edward Markey, Suffolk County District Attorney Dan Conley, Suffolk County Sheriff Steven Tompkins, State Reps Liz Malia, State Sen. Linda Dorcena Forry, State Rep. Marty Walsh